Vitagraph Re-Releases
When they purchased Vitagraph Studios in 1925, Warner Bros. was interested primarily in their extensive distribution network, but along with the sale came the entirety of the Vitagraph film catalogue. In the second half of the 1920s, Warner Bros. re-released several recent Vitagraph films, both theatrically and to the burgeoning home movie market. This collection includes three of those late Vitagraph films re-released by Warner Bros.
Featured content
Richard moves to a remote island to escape from the memory of Eve, who had been forced to marry another man, but Fate still has more in store.
Starring Marguerite de la Motte and Wallace MacDonald · Directed by Tom Terriss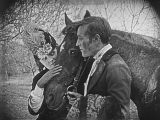 An scheming adventurer attempts to blackmail the daughter of a country squire into marrying him.
Starring Jean Paige · Directed by David Smith
George objects to his mother remarrying as the Amberson family fortune declines. Based on Booth Tarkington's novel "The Magnificent Ambersons".
Starring Alice Calhoun and Cullen Landis · Directed by David Smith
Additional content
All three films included in this set feature original, scene-specific scores compiled from period appropriate photoplay music.
Information
Format
Temporarily unavailable
This product has not been discontinued but is not available at this time. Please check again later.